ANFD Agitated Nutsche Filter Dryer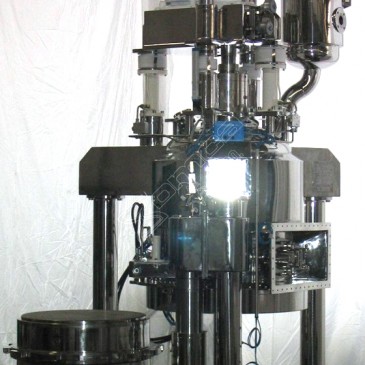 Standard agitated nutsche filter dryer for washing and isolating solids in pharmaceutical, biopharmaceutical or chemical processes or the production of active pharmaceutical ingredients ( API).  Jacketed and with a mixer that can rotate in both clockwise and anti-clockwise directions and can optionally be heated.  Multi layered sintered plate filters available with different porosities.  Cleaning in place (CIP) and Sterilisation in place (SIP) possible.  Rated for pressure and vacuum so Nitrogen inerting is possible during the filtration phase.  Fitted with a plug valve for product discharge.
Suitable for many pharmaceutical processes, particularly when replacing an existing filter dryer or where space is limited.  If for a new installation, it might be worth considering our PFE tilting filter dryer.
The agitated nutsche filter dryer can carry out the following process stages within the same system:
Sanitisation/sterilisation in place (SIP)
Inerting
Slurry charging
Pressure or vacuum filtration
Cake smoothing
Drying
Plug valve controlled product discharge
Cleaning in place (CIP)