BR30-K Glass Jacketed Reactor with Distillation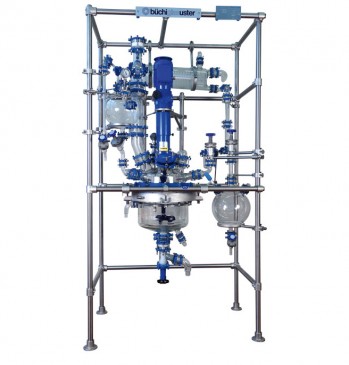 Basic glass jacketed reactor 30 litres
The BR30-K is a basic glass jacketed reactor 30 litres, with simple distillation overhead, designed to fit in a walk-in fume cupboard.
Glass jacketed reactor vessel for use with an oil based temperature control system.
Complete system PED rated and ATEX rated to zone 1 as standard, zone 0 an option.
Glass lined steel agitator suitable for good mixing of high and low viscosity liquids and low minimum stirred volume (1 litre).
Zero dead volume bottom outlet valve, rising mushroom design.
Rated for full vacuum and +0.5 bar.  -60°C to +200°C.
FDA approved materials of construction.
Glass superstructure constructed from Buchiflex flexible glass joints to give flexibility and allow components to be changed easily.
Feed vessel, one receiver, condenser for distillation.
Option to have winch to lower vessel base to the ground.  Other options include, gas inlet tube, cleaning in place sprayball, solids charging port, sampling system, pH measurement, data logging and automation.