Kiloclave Large Scale Pressure Vessel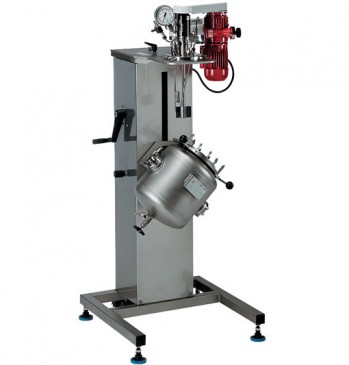 Extremely versatile system with interchangeable vessels from 500ml to 20l.
The Kiloclave is a superb top-of-the range system. The robust frame and multiple-port coverplate can take one of a wide range of vessel sizes which could enable, for example, process development on the 100ml scale through to Production scale 20l batches using just this single system.
---
The vessels can be safely and easily lowered using the integral lift and once lowered the vessel can even be rotated for cleaning, emptying or exchange.
---
There are options for fast-action-closure and an increased 200bar pressure rating. Stirring is enabled via the BMD 300 magnetic coupling combined with a very powerful ATEX rated stirrer motor. It is supplied ready to use complete with pressure gauge, rupture disc, Pt100 temperature probe, baffle, bottom outlet valve and two needle valves. Stainless steel parts can also be made from a range of alternative metals. An overhead distillation option is available.
Rated Pressure: up to 200 bar
Rated Temperature: -10….250°C   Vessels available: 500ml, 1l, 1.5l, 2l, 3l, 5l, 10l, 20l
Safety: Rupture disc, manufactured to PED, CE marked, safety screen
Temperature control: Jacketed vessels can be supplied with integral electrical heating or for connection to an external heater/chiller (also available from us)
Please contact us to discuss your requirements as specials are always possible.