Miniclave Drive Pressure Vessel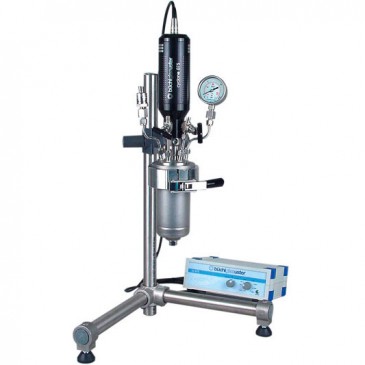 Compact reactor system complete with temperature and stirring control.
A stainless steel vessel which is jacketed to allow precise temperature control through the addition of an external heater/chiller. The integral stand and fast-action closure enable effortless access to the inside of the vessel for loading and cleaning. It is our smallest system to be fitted with the Cyclone 075 combined magnetic coupling and stirrer motor which is in turn mounted onto the 6-port stainless steel lid and is supplied complete with speed controller and a stirrer shaft/impeller. At the base of the vessel there is a plugged port which can be replaced with a stainless steel flush mounted run-out valve. Different sized vessels are interchangeable with the same head unit.  It is supplied ready to use complete with pressure gauge, rupture disc, Pt100 temperature probe and two needle valves. Stainless steel parts can also be made from a range of alternative metals.
Rated Pressure: 60 bar
Rated Temperature: 250°C (option for 300°C)
Vessels available: 100ml, 200ml, 300ml. NEW! PTFE liners available
Safety: Rupture disc, manufactured to PED, CE marked
Temperature control: Jacketed vessels for connection to an external heater/chiller (also available from us)
Please contact us to discuss your requirements as specials are always possible.