Polyclave Glass and Stainless Steel Pressure Vessel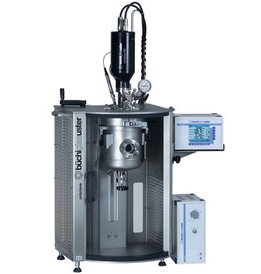 Extremly robust 1-5l system for the most demanding environments.
The Polyclave is designed for the busy laboratory or even pilot plant. The frame is very strong and not only enables the use of glass or stainless steel vessels up to 5l in volume but can be fitted with a fast-action-closure for easy vessel change. It can also be supplied with a lifting mechanism in order to raise/lower the vessel and the whole unit can be made mobile by selecting the trolley mounted option . The frame includes a sliding polycarbonate safety screen and supports the 7-port head unit. One of a diverse range of 35 vessels can be installed whether glass, glass/metal or all-metal and with and without bottom outlet valve. Stirring is enabled via the very powerful Cyclone 300 combined magnetic coupling and stirrer motor (ATEX version available). It is supplied ready to use complete with pressure gauge, rupture disc, Pt100 temperature probe and 2 needle valves. Stainless steel parts can also be made from a range of alternative metals. An overhead distillation option is available.
Rated Pressure: up to 60 bar
Rated Temperature: -20….250°C
Vessels available: 250ml, 500ml, 1l, 1.6l, 2l, 3l, 5l
Safety: Rupture disc, manufactured to PED, CE marked, safety screen
Temperature control: Jacketed vessels can be supplied with integral electrical heating or for connection to an external heater/chiller (available from us)
Please contact us to discuss your requirements as specials are always possible.