Expanded Glass Reactor Range
Wide Range of Glass Reactors for Kilo Lab and Scale-Up 5 litres to 250 litres

Glass reaction and distillation systems built around vessels from 5 to 250 litres.  We have been supplying the ChemReactor range of reactor and distillation systems for many years, with vessel sizes from 15 litres to 60 litres designed to fit in a walk in fume cupboard.  Larger systems up to 250 litres with integrated glass superstructure also use the Büchiflex flexible glass joint for ease of use, good vacuum tight joints and easy reconfiguration should the process change.
The new MidiPilot range (20-30 litres) bridges the gap between these larger scale-up systems, often used for GMP manufacture of APIs and the smaller laboratory scale MiniPilot systems from 5 to 15 litres.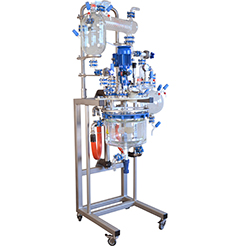 These reactors are already being successfully used around the world for chemical synthesis, low temperature chemistry, crystallisation, refluxing, multi-phase extractions, azeotropic and vacuum distillation.
At the heart of each system is a top quality jacketed glass vessel rated for full vacuum and up to +1bar (over-pressure protection is fitted as standard) and
-60°C….200°C (minus 90°C with the triple-walled vessel option). Unlike most lab-based glass reactors, the lid is made from PFA-coated stainless steel as found on the Production-scale versions. This makes the system extremely robust and therefore able to withstand the rigours of the busy Process Development or scale-up facility.
The system is totally modular – the strong lid and fully welded stainless steel frame are able to support substantial distillation, reflux and feed vessel (10L) components. Solids-charging is facilitated by a large and easily accessible loading port.  A Cleaning-in Place (CIP) spray nozzle can also be easily accommodated. The glass parts utilise the very same self-draining Büchiflex connection system used on our large glass plant. A lift option enables the vessel to be lowered easily for cleaning, loading and even exchange with alternative reactors. The frame can be supplied for bench-top mounting or with integral wheeled trolley making it very easy to store outside the walk-in fume cupboard when not in use.  To assist further chemical processing, the MidiPilot can be easily connected to one of a range of ancillary modules including mixing vessels, scrubbers, dryers and vacuum filtration units.
As with the large-scale kit, a dry-running ATEX rated mechanical seal is employed as well as a very powerful ATEX motor. The stirrer shaft has interchangeable stirrer shapes such as impeller, turbine and anchor which can be PFA or glass lined steel. A common issue with this scale is inadequate mixing and again we address this by using our proven ChemReactor baffle design with its integral Pt100.
Whether it is the CE marking, ATEX rating, FDA approval, the use of Production-standard components or the fact that you will be supported by the leading professional glass-plant manufacturer, we believe, that for the first time, the demands of the important scale-up phase are fully addressed by the MidiPilot.
Why settle for scaled-up lab glass when you can invest in the quality of a scaled-down production plant?
Date posted: 14-02-2017